God had created Eve as a special creation: the app Women Bible is a tribute to His special choice for the virtuous women on earth who want to feel the holy bliss always around them.
Women Bible app offers a unique opportunity for women of all ages to read holy Bible Stories and inspirational Bible quotes for daily study of Bible on the android device.
No matter where you are; this offline Bible app will help you to carry the Holy book with Holy verses always with its users. If you are a woman, regardless you are a homemaker, a professional, a student, or an aged lady, the Women Bible app is a great way to feel the bliss of Almighty around you. The portable version of holy Bible uploaded in this Daily Bible for women app is about the ASV American Standard Version.
👍 How to use the app?
Women Bible is a user-friendly woman's daily bible app, you may read and enjoy at your fingertips. Once downloaded, you can start browsing through its Bible verses and inspirational quotes following the ASV American Standard Version of the Bible.
You can add your favorite Bible quotes; you can remember the last Bible stories and verses read to continue your Women's Daily Quotes, etc. You can change the font keeping its font size easy for your vision. You may search Bible verses by using keywords.
You can customize your Holy Bible reading by adding notes, Bible quotes on social networks, and you will get to send verses by email.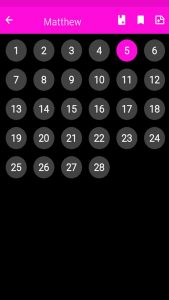 👍 App's Features:
The app Women Bible, the Holy Bible for women in English, is built with some easy features. Knowing these features will help you to enjoy women's bible study at your fingertips.
⚫ Audio setting of the Bible Study app can be fully customized: audio settings include adjustment of volume, speed and tone of the Bible verses and quotes.
⚫ You may try customizing your Bible study by bookmarking of verses and Bible quotes.
⚫ You may change the text size.
⚫ You may read the Bible verses and quotes by converting the digital book into day or night mode.
⚫ You may create a list of your favorite Bible verses organized by dates.
⚫ You may add notes, share Bible verses or inspirational holy passages on social networks.
⚫ You may send holy verses by email to your contacts.
⚫ You may search Bible verses by keywords
⚫ Enjoy the facility of remembering the last Bible quotes and passages read on the app.
⚫ You may customize the frequency of notifications: you may get them daily, only on Sundays, as well as you can stop getting notifications on your mobile.
Download the app Women Bible on your android and start Bible Study in your own way, wherever you are and whatever is the time.
Let the holy bliss engulf you, and you feel the shadow of Holy Ghost on your head. Amen!
📖 The books and divisions of the Bible:
OLD TESTAMENT:
Law: Genesis, Exodus, Leviticus, Numbers, Deuteronomy.
History: Joshua, Judges, Ruth, First Samuel, Second Samuel, First Kings, Second Kings, First Chronicles, Second Chronicles, Ezra, Nehemiah, Esther.
Poetry: Job, Psalms, Proverbs, Ecclesiastes, Song of Solomon.
Major Prophets: Isaiah, Jeremiah, Lamentations, Ezekiel, Daniel
Minor Prophets: Hosea, Joel, Amos, Obadiah, Jonah, Micah, Nahum, Habakkuk, Zephaniah, Haggai, Zechariah, Malachi.
NEW TESTAMENT:
Gospels: Matthew, Mark, Luke, John.
History. Acts
Epistles: Romans, 1 Corinthians, 2 Corinthians, Galatians, Ephesians, Philippians, Colossians, 1 Thessalonians, 2 Thessalonians, 1 Timothy, 2 Timothy, Titus, Philemon, Hebrews, James, 1 Peter, 2 Peter, 1 John, 2 John, 3 John, Jude.
Prophecy: Revelation