Free Bible is one of the best Bible study tools that is recommended for Devoted Christians.
This is the WEB (World English Bible) Version of the Holy Bible that you can use to read or listen to Bible quotes.
Motivate yourself with the best Bible app. The WEB is the modern translation of the Holy Bible. This version comes from the American Standard Version and actually, it's the updated version.
👍 The Features of Free Bible:
⚫ Offers offline features free of cost
⚫ Both audio and readable version is available
⚫ Customize the text size
⚫ Turn on/off Night Mode
⚫ Bookmarking of the verses and include notes
⚫ Organize the verses by creating a list
⚫ Share verses with friends and family
⚫ Send verses via Email
⚫ Receive motivational Bible quotes on mobile
⚫ Keyword search function
⚫ Remember last read verse feature
👍 Spread The Holy Words To Everyone
This Bible app offers you a full free Bible reading opportunity using your phone. You can read the best Bible verses and Bible quotes whenever you feel like. Spread the Holy Words and share the peace with everyone you know by using the social network sharing option of our app.
👍 The Most comforting Features
Our Free Bible will only fulfill your life with peace and happiness which will not harm you. You can protect your eyes and ears by using our various features like Night Mode, changing text font and many more.
👍 Find the Favorite Verses Easily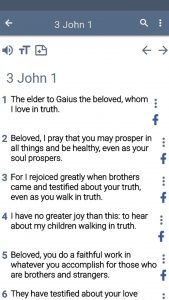 This Bible app remembers the last verse you read that's why when you come back to start your Bible reading again, you will find the specific verse easily. There's a lot more; you can bookmark the verses, add any tiny notes if you want and even create lists. Also, you can select a date to get Bible quotes on your phone.
📖 The books and divisions of the Bible:
OLD TESTAMENT:
Law: Genesis, Exodus, Leviticus, Numbers, Deuteronomy.
History: Joshua, Judges, Ruth, First Samuel, Second Samuel, First Kings, Second Kings, First Chronicles, Second Chronicles, Ezra, Nehemiah, Esther.
Poetry: Job, Psalms, Proverbs, Ecclesiastes, Song of Solomon.
Major Prophets: Isaiah, Jeremiah, Lamentations, Ezekiel, Daniel
Minor Prophets: Hosea, Joel, Amos, Obadiah, Jonah, Micah, Nahum, Habakkuk, Zephaniah, Haggai, Zechariah, Malachi.
NEW TESTAMENT:
Gospels: Matthew, Mark, Luke, John.
History. Acts
Epistles: Romans, 1 Corinthians, 2 Corinthians, Galatians, Ephesians, Philippians, Colossians, 1 Thessalonians, 2 Thessalonians, 1 Timothy, 2 Timothy, Titus, Philemon, Hebrews, James, 1 Peter, 2 Peter, 1 John, 2 John, 3 John, Jude.
Prophecy: Revelation