The app Bible KJV is a handy offline Bible app that will offer you the ready access for digitalized KJV Bible in English at your fingertips. No matter wherever you are, the King James Bible app will help you to read and enjoy the Holy read of the daily Bible dose.
Download it now and feel the holy bliss and shadow of the Holy Ghost all around you.
The app Bible KJV, Holy Bible Offline, is an easy to use Bible and it has so many user-friendly features that the user will be really facilitated with its dexterity.
Besides the authentic King James English Version, the app contains commentaries written by the American theologian Cyrus Ingerson Scofield. The Touch Bible app has cross-references and subheadings in each chapter of the online King James Bible.
👍 How to use the Holy Bible KJV app?
The Holy Bible KJV app is extremely simple to use. It is a touch bible where you can simply browse the Bible verses and get the proper meaning of the Bible quotes and verses.
You can highlight your favorite Bible verses, sentences, you can bookmark different portions, etc. and verdicts by reading authentic commentaries by the famous American theologian Cyrus Ingerson Scofield.
You can use the cross-references for better clarity and understanding of the meanings: You will get the immaculate facility of enjoying KJV Bible audio free.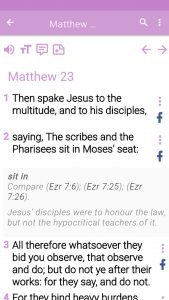 👍 App's Features:
The app Bible KJV is built with multiple user-friendly features to make your Daily Bible Reading a pure bliss and a holy joy. Check the features before you start enjoying Bible KJV on your Android:
⚫ It is an offline Bible app: read the motivational Bible verses without internet support.
⚫ Enjoy the facility of free audio Bible: Listen to the holy dictum while working.
⚫ You can enjoy your Bible study in a modified manner: search the favorite Bible verse, books, and chapters by keywords.
⚫ You can easily Bookmark your King James Bible and Cyrus Ingerson Scofield commentary content: quickly access your darling verses and phrases.
⚫ Enjoy some added privileges like using night mode; organize Bible verses, setting fonts according to date and time, subheading, etc.
⚫ Memorize and remember the last read Bible verse: entirely customize your offline Bible KJV study.
⚫ Share the Bible verses on social sites via your account: spread the holy bliss in your surrounding community.
⚫ Send motivational Bible verses by email to your contacts.
⚫ Receive hand-selected and encouraging Bible verses delivered to your mobile device daily as well as on Sundays.
Download the app Bible KJV and enjoy its motivational phrases and verses anytime you wish to read. Fill your life with holy blessing and feel the touch of heaven on your head!
Here you have a list of the book of the Holy Bible:
📖 OLD TESTAMENT:
Law: Genesis, Exodus, Leviticus, Numbers, Deuteronomy.
History: Joshua, Judges, Ruth, First Samuel, Second Samuel, First Kings, Second Kings, First Chronicles, Second Chronicles, Ezra, Nehemiah, Esther.
Poetry: Job, Psalms, Proverbs, Ecclesiastes, Song of Solomon.
Major Prophets: Isaiah, Jeremiah, Lamentations, Ezekiel, Daniel
Minor Prophets: Hosea, Joel, Amos, Obadiah, Jonah, Micah, Nahum, Habakkuk, Zephaniah, Haggai, Zechariah, Malachi.
📖 NEW TESTAMENT:
Gospels: Matthew, Mark, Luke, John.
History. Acts
Epistles: Romans, 1 Corinthians, 2 Corinthians, Galatians, Ephesians, Philippians, Colossians, 1 Thessalonians, 2 Thessalonians, 1 Timothy, 2 Timothy, Titus, Philemon, Hebrews, James, 1 Peter, 2 Peter, 1 John, 2 John, 3 John, Jude.
Prophecy: Revelation